Birthday Parties

Birthday Parties
Book your next birthday party at the Centerpoint Community Ice Rink. Our Party Packages start at just $150.00.
Birthday Party Flyer | Call 816-442-6126 or email our Party Coordinator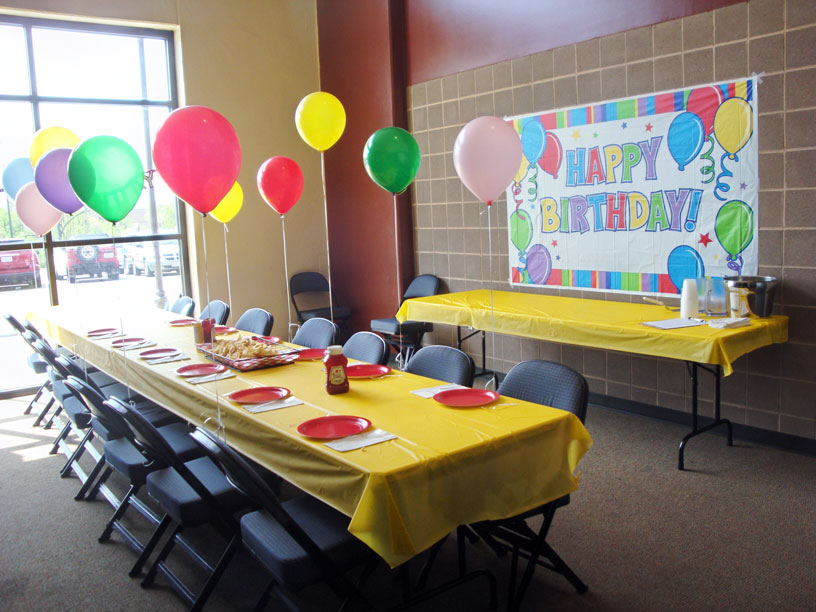 Frequently Asked Questions:
What are the available dates and times for a Birthday Party?
"Birthday On Ice" Parties are held during our Public Skate Sessions.
How many guests are included in the party package?
The party package is based on a total of ten guests. More guests are welcome; however, there is a $8 charge for each additional person.
What if parents want to skate?
Any parents are welcome to skate for an additional $8.
What party spaces are available?
There are four different areas available. The party room can accommodate two parties or your guests may prefer either the North or South rink side locations. Party spaces are the same price. Availability is based on a first come first serve basis. We do our best to accommodate every request but do not guarantee rooms.
What restrictions are there for outside food or custom decorating?

Jimmy John's is our official birthday catering sponsor. They've got Mini Jimmys®, Party Platters, Box Lunches and tasty sides, perfect for your party! At Jimmy John's, quality is a way of life. They spend 6 hours slicing and baking every day to make a sandwich in 30 seconds. (That's Freaky Fast!®) They bake fresh bread all day, so it's always served less than 4 hours out of the oven, and they slice high-quality meats and fresh veggies to perfection daily. Order at JimmyJohns.com.
Feather boas, confetti, or items that will leave debris on the floor are prohibited. Balloons may be brought for decorations! Please note, the Centerpoint Community Ice staff is unable to provide balloons or assist guests to blow them up.
How do I reserve a date?
Call us at 816-442-6126. When you call to book your party we will require you to put down a $75:00 deposit. The reamainder of your balance is due after your Birthday Party concludes. If you need to cancel your party we will reserve the right to enforce our cancellation policy as follows:
Notifications Cancellation Fee
Cancellations outside 48 hours $75.00

Cancellations within 48 hours $150.00
Count Down to your Party!
Now that your party is booked! Please review the following suggestions to ensure your party runs smoothly!
The Week Before
Remind your guests to wear high socks, warm clothes and gloves.

Events at the Silverstein Eye Centers Arena may result in additional vehicle traffic, so encourage guests to arrive early for convenient parking.
The Day Before
Should your guest count exceed the minimum number of 10 guests, please contact your party coordinator so proper accommodations can be made.
The Day of Your Party
Please arrive a few minutes before the party is scheduled to start. This ensures that proper skate sizes will be available

Parents should walk their children into meet the party chaperone or host. Parking is available in the south lot and the entrance to the rink is on the South side of the Silverstein Eye Centers Arena through the Centerpoint Community Ice doors.